DTV Relay Stations
Transmitter (MCPA/SCPA)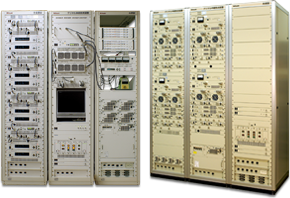 It was developed in conjunction with NHK Integrated Technology Inc.
MCPA
|
SCPA
|
Relay Compositions
.
---
This is a relay transmitter of ISDB-T Digital Terrestrial Broadcasting that depends on "Transmission equipment common specifications for the Digital terrestrial Broadcasting" (Orange Book).

This corresponds to all systems from "Broadcasting wave relay method" to "TTL receive method".

---
Corresponding to 10W, 3W, 1W, 0.3W and 0.1W (per a channel)
Corresponding to the adjacent receiving and transmitting
Preparing many kind of SCPA/MCPA
Corresponding to various request from the complete present and preliminary method to the basic part switch and (N+1) synthesis method
Corresponding to the separation method of transmission and reception
Low Power Repeaters

This system is a minimal low signal power transmitter for the relay of ISDB-T Digital Terrestrial Broadcasting.


As the need arises, it's possible to have the compensation function built-in for integrate-type basic equipment.


Related Equip.